I'd like to introduce you to my dear friend and spiritual advisor SarahSpiritual. I met Sarah when I had my first consultation with her in West Palm Beach over 10 years ago and she has been instrumental in my own spiritual growth and journey. Sarah's gifts are apparent to anyone who meets her and her first time clients become lifelong clients. Reach out to schedule an appointment with her at sarahspiritual.com and see all she has to offer.
Check out Sarah's weekly radio show/podcast on Wednesdays at 6 PM EST and you can join from various ways from her website. I am excited to be joining her at the beginning of each month to review what the stars and the planets have in store for all of us, so be sure to tune in!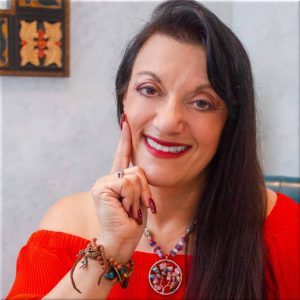 SarahSpiritual is a spiritual advisor, transformational coach, energy healer, medium and spiritual teacher. Sarah's mission is all about YOUR transformation and empowerment.  SarahSpiritual is one of a handful of spiritual facilitators worldwide who have been certified as Soul Integration Practitioners.  For a personal session by SarahSpiritual visit SarahSpiritual.com.  Sarah's sessions can be done in-person, by phone or Skype.  Learn more about the complete line of products to assist your spiritual journey offered on SarahSpiritual.com and Sarah's Expedito Enlightenment Center in West Palm Beach.  The Center is honored to be a Temple of the Violet Flame of St. Germain. Sarah's radio show, "Spiritually Speaking with Sarah®" has enjoyed 11 consecutive years of LIVE National Radio. Listen Wednesdays from 6-8 PM on WWNN 1470 AM, 95.3 FM, 96.9 FM & 103.9 FM! Watch the LiVE Stream on Facebook & YouTube!